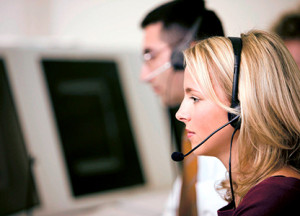 Businesses of all shapes and sizes are now presented for the first time with the opportunity to record all calls handled by their contact centers. Instead of having access to only selected samples of calls (often hand picked by your vendor), managers are now able to obtain a full and complete data set. Here's why businesses that operate call centers should be recording all calls and what you need to know beforehand.
No matter what business you are in you will want the ability to analyze and assess the agents acting as an extension your company. This is where a quality assurance program comes into play, which having a data set of recorded calls is a must. You will now be able to identify the individual strengths and weaknesses of your agents but develop an ongoing training foundation for future success.
 Having recorded calls not only aids in measuring the accuracy of the agent answering the call, but the strength of the lead itself. By listening to the call itself you will be able to gain valuable insight into how the customer found you, what their needs are, and any areas left open for improvement.
Once you've made the decision to have all your calls recorded you'll want to make sure your contact center is compliant with all local and federal laws in place. We boiled down everything you need to know as an easy reference guide to keep you informed. Make sure to go over recording compliance with your call center before you dive in.
Federal law allows recording of phone calls and other electronic communications with the consent of at least one party to the call.
Twelve states require, under most circumstances, the consent of all parties to a conversation. Those jurisdictions are California, Connecticut, Florida, Illinois, Maryland, Massachusetts, Michigan, Montana, Nevada, New Hampshire, Pennsylvania and Washington.
Regardless of the state, it is almost always illegal to record a conversation to which you are not a party, do not have consent to tape
The FCC requires that an individual notify other parties to a call before using a tape recorder in an interstate call. The rule requires that the individual either get consent from all parties before making the call, notify the participants at the beginning of the recording, or use a "beep tone" that is repeated regularly throughout the call.
State By State Recording Laws At A Glance
 
Is consent
of all parties
required?
Are there
criminal
penalties?
Does the
statute allow
for civil suits?
Is there a
specific
hidden camera
law?
Are there
additional
penalties for
disclosing or
publishing
information?
Federal
 
 
Alabama
 
 
Alaska
 
 
Arizona
 
 
 
Arkansas
 
 
 
California
Colorado
 
 
 
Connecticut
 
 
Delaware
 
D.C.
 
 
Florida
 
 
Georgia
 
 
Hawaii
 
Idaho
 
 
Illinois
Indiana
 
 
Iowa
 
 
 
Kansas
 
 
Kentucky
 
 
 
Louisiana
 
Maine
 
Maryland
Massachusetts
 
Michigan
Minnesota
 
Mississippi
 
 
Missouri
 
Montana
 
 
Nebraska
 
 
Nevada
 
New Hampshire
New Jersey
 
 
New Mexico
 
 
New York
 
 
 
North Carolina
 
 
North Dakota
 
 
 
Ohio
 
Oklahoma
 
 
 
Oregon
 
 
 
Pennsylvania
Rhode Island
 
 
South Carolina
 
South Dakota
 
 
 
Tennessee
 
Texas
 
 
Utah
 
Vermont
 
 
 
 
 
Virginia
 
 
Washington
 
 
West Virginia
 
 
Wisconsin
 
 
Wyoming
 
 
 Are you looking for a call center here in the states or maybe an offshore solution? Read on to learn more about our solutions here.