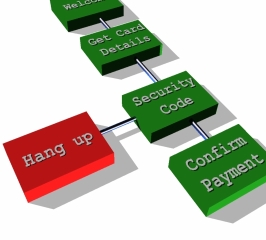 Creating a seamless and effective IVR (Interactive Voice Response) campaign demands extensive thought and planning. While the task can seem daunting, the process doesn't need to be painful, but making the effort to outline what it is you wish to accomplish and, more importantly, what exactly you want a customer to accomplish will guarantee an IVR that becomes an integral facet of your business's communication process.
Regardless of whether you want to build an IVR to expedite the highest paying leads, manage telephone customer service concerns, or create an intricate phone directory for a large (or small) company. Here are ten essential tips that will ensure IVR success.
10. A solid IVR is "short and sweet"– no unnecessary prompts or questions. First brainstorm and then outline the most important pieces of information you want to provide directly to the customers. The same process applies to pieces of information you wish to extract from the customer.
9. Streamline the initial process by starting with just the top five prompts you want to play or ask your customers. Start there and with time continue to observe, analyze, and adapt your IVR. You can remove or add prompts to enhance the overall quality of the IVR. Just remember in this case less is always more.
8. An opening prompt should be polite, exact, and short.– When creating a successful opening prompt try to integrate politeness by displaying your gratitude to the customer that is calling in and reaching your IVR. Keep in mind the opening prompt should be short in nature (less than 30 seconds) and concise.
7. Provide the caller the option of whether they want to use the IVR or not. Create a message that empowers the customer to gain instant navigation through the IVR or inform them that a human representative, or voice mail box is still an option
6. First Person IVR– Create the IVR script in the first person. Customers prefer to hear an IVR refer to itself as "I" rather than an non-specific "system".
5. Provide the customer with response options.– Inform customers with the option to navigate the IVR either using touch tone buttons or by speaking their answers. Make sure the customer understands that speech is an option.
4. If speech answers are enabled be specific.– Be concise regarding what the answer needs to be. Stick with two or three syllable responses so as not to confuse the customer, or the system.
3. Break down the processes in the IVR script to ensure consistent language throughout.– Break down the various actions (something you request the customer to do) and names (what you call something) of each process you have scripted into your IVR. If you tell a customer to "press one" and then later tell them to " enter two" you do not have consistent language.
2. Consider Touch Tone Only.– A touch tone only IVR will not allow voice responses but is ideal for situations where the customer has significant background noise. A touch tone only IVR is also a great way to simplify an IVR.
1. Always provide an option to access human assistance if needed.– Customers can become frustrated or agitated in an IVR situation and having an option for human assistance will minimize customers hanging up and not calling back.
While every IVR campaign is unique in nature, Route2Cloud can assist you every step of the way. Our extensive experience will help to guide you in creating either a sophisticated IVR (with an advanced database look up and real time http posting), or even the most basic IVR configurations. Don't hesitate to contact us today for a personalized IVR consultation.